Annual Report Planning | designCraft Advertising | Madison, WI

Annual Report Planning Essentials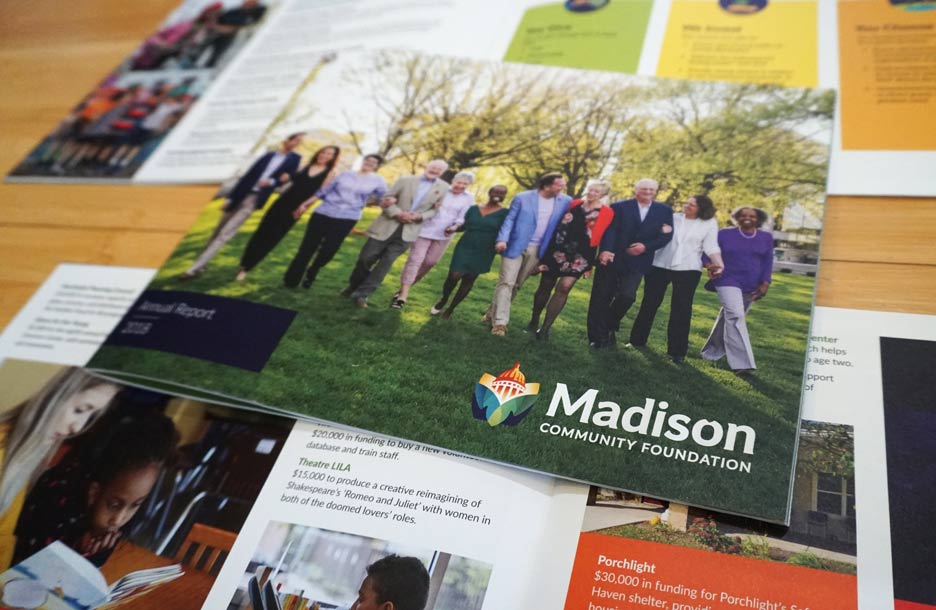 Your organization's annual report is a once-a-year opportunity to document your mission, impact, and financial strength. It can come in many shapes, sizes and formats, and now more than ever it requires planning, careful organization, and good design to inspire donors and foundations to support your work, or to give stockholders confidence in your performance.
Whether you are looking for help to create this year's report, or planning ahead for next year, working with a professional design team ensures your organization is represented well.
Annual reports: an investment in your brand
Here are a few tips to get the most out of an investment in your annual report:
Gather high-resolution photos in advance. Organizing photos for your report takes time but collecting high-resolution photos in advance will ultimately save time and money. Photos for print should be at least 300 DPI and you can use online tools such as Pixelcalculator to see if your images will work.

Even during the COVID era, you can get good photos of your staff. Schedule photos early in the year for June when the weather is nice. Build yearly staff photos into your budget and invest in editorial photography to document your work throughout the year.
Decide which content is needed ahead of time. A professional marketing team can help with writing, editing, design, and layout. Provide the team with the general content you want in the report. This will help determine the overall size and layout of the report. Here are a few preparation tips:
Establish your key message(s). What do you want your readers to know about your organization's accomplishments in the past year? Your marketing team can help you sharpen this focus.

Be concise. Longer documents cost more to design and print, and are less likely to be read.

Consider which donors or partners will be acknowledged by name.

Decide if board members will be listed with individual photos, a group photo, or no photo at all.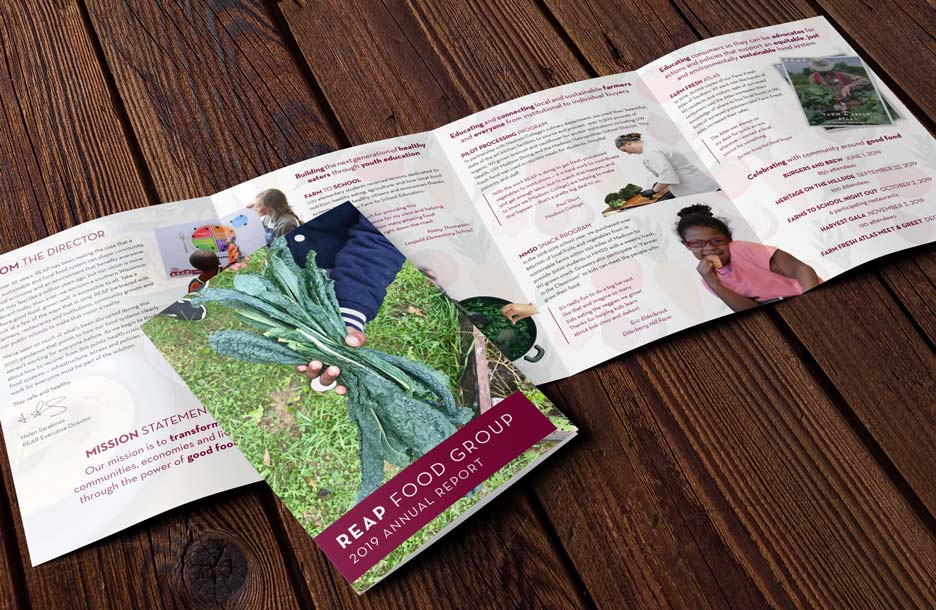 Plan for print and online distribution. Hire a designer who will design for both print and web (including accessibility for the visually impaired) from the start. You might want to consider reducing the costs of printed copies by publishing the full report on your website, then mailing a branded postcard to your donors to invite them to review the annual report.
Collect materials for your annual report throughout the year. Though it won't be published until early the following year, create a draft outline of your content and collect photos as you go. If your organization presents data on your impact, be sure you have a system for tracking your successes for future infographics.
Benefits of working with a full-service ad agency like designCraft
Professional marketers protect your brand. Your supporters know who you are and what you do because of the consistent and professional way you represent yourself to the public. Don't trust your annual report to an inexperienced designer or choose a new designer each year. A full-service agency is your long-term partner for annual reports and will ensure brand consistency and proper representation year to year.
Professional marketers help you gain a new audience. The best annual reports serve as both a report to current donors and partners, and a communication tool to reach new donors and partners.
Professional designers provide a clean and organized look. Your annual report must be well thought out and well designed to convey the facts of your work and inspire donors to give. Good design is a science.
Professional designers have accessibility in mind. Viewing your annual report with a screen reader or on a mobile device should be easy. Professional designers make sure your annual report is accessible to all including the elderly and people with visual impairments.
Your annual report is a showcase for your organization's most important work; make sure that work is well represented by choosing the professional team at designCraft Advertising.
Contact us today to discuss your organization's annual report.
Explore some examples of annual reports created by designCraft Advertising.