What to Consider When Building a Website | designCraft Advertising | Madison, WI

What to Consider When Building a Website
Your website is your online front door. It's where you meet new customers, serve current clients, and share information with people from around the world. Investing in an exceptional website enables your organization to benefit for years to come.
Options
The average website lasts four to six years, so you'll want to build it right the first time. When your organization needs a new website, look for an advertising agency that can provide you with a wide range of options to ensure that the end result is perfectly tailored to your style, needs, and budget. Find a designer who can make a website that accurately represents your organization's brand and vision. You'll also want to work with a developer who can ensure that you won't be limited later on when it's time to expand your site, and you'll need a marketing expert who can build an effective site.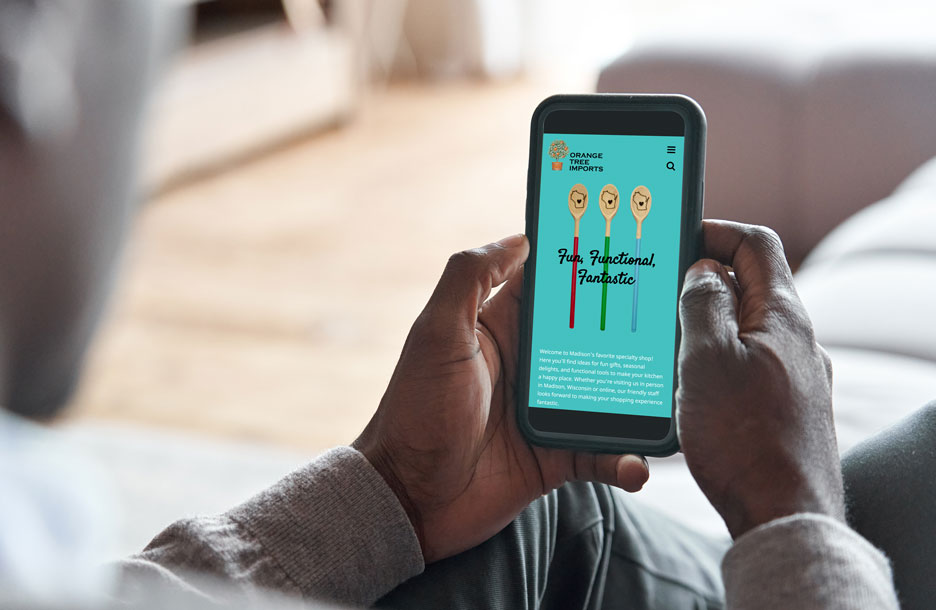 designCraft designs and develops websites of all different sizes and types, from basic three-page sites for clients on a budget to expansive sites that include a wide range of custom features, such as a searchable piano gallery, an interactive survey, or a business directory.
designCraft creates portals to assist clients in managing their complex data, such as tracking apprentices' progress, patient registration, or veterinary referrals.
We also develop custom e-commerce sites that allow local shops such as Little Luxuries and Orange Tree Imports to sell their products and gift certificates online.
If your firm already uses third-party services for things like appointment scheduling, keeping track of member information, invoicing and paying bills, or collecting donations, choose a web team that can integrate these tools into your new website to save you time and money. designCraft regularly works with clients' existing services to craft streamlined web experiences, and we can recommend integrating new software for calculating sales tax, managing shipping services, sending automatic text notifications, or preventing website hacks.
Skilled web team
Choose an agency with a web team that has a diverse skill set. Look for developers who have the capability to build a site from scratch, without relying on premade templates. Be wary of teams that are unable or unwilling to customize a web template, preferring only to fill in predefined content blocks. Likewise, seek out designers who have professional design training and experience. It is essential to work with copywriters who have marketing expertise and understand search engine optimization (SEO) so the text on your website is professional and helps your organization rank on Google and other search engines, and make sure that at least one member of the web team is certified in Google Analytics.
designCraft's dedicated web team includes experienced developers, designers, copywriters, and marketing experts, who allow us to design and build all our sites entirely in-house. We design a custom, on-brand template for each site we create.
Content Management System (CMS)
If you want to be able to make updates to the new website yourself, consider the CMS that your site will be based on. You want to make sure that it will be user friendly and secure, and that it will not bog down your site's loading time.
Although we can and do work on many different CMS platforms, designCraft builds our custom sites on dcCMS, an open-source CMS that we developed. dcCMS has several advantages over other CMS systems: it is not restricted to premade templates, it makes editing websites via the CMS straightforward and easy, it provides impeccable security, and its loading time is optimized.
Essentials
When you hire a website creator, ask about essential features including website security and hosting agreements, Americans with Disabilities Act (ADA) compliance, and search engine optimization.
designCraft builds all of our sites to be ADA-compliant, responsive, and secure. We incorporate SEO best practices into each website. After our websites go live, we provide ongoing support, security updates, guaranteed hosting, domain name maintenance, and performance checks.
If it's time to update your digital welcome mat, choose the professional team at designCraft Advertising to work with you to design, build, and host your most important marketing investment.
Contact us today to discuss creating a website for your organization.