April 1, 2021 | designCraft Advertising | Madison, WI
It's a common complaint that standard streaming services just don't include enough commercials. That's why we're so thrilled to announce the latest offering from designCraft Advertising:

Adflix makes every day like Super Bowl Sunday, except without any boring football to interrupt the ads. Stream your favorite commercials on demand, anywhere in the world, with any internet-connected device.* It's as simple as signing in to your Adflix account, choosing from our extensive collection, and pressing play to engulf yourself in the occasionally annoying but always enticing world of advertising hype.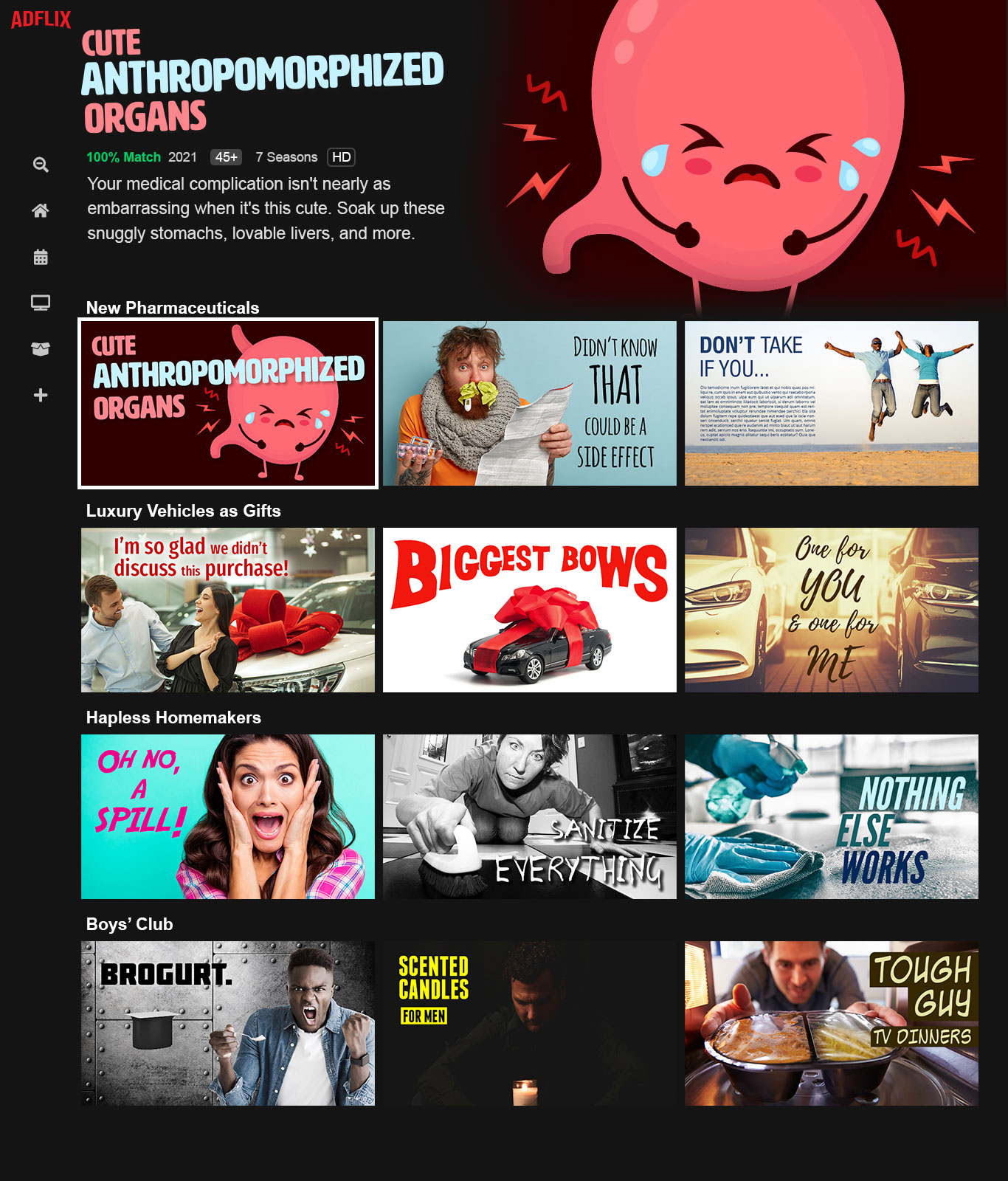 For one low monthly subscription of $50 (let's be honest, the price isn't that bad when you know you'll be sharing your username and password with dozens of your closest friends and family), you'll have access to decades of your favorite 30- and 60-second spots.
Our vast library of commercials allows you to revisit classics like toy commercials from the '80s, the thrilling world of household cleaning products, and aspirational luxury automobile promotions that just might have you spending beyond your means. Plus, you'll always have access to the very latest ads including budding favorites from the pharmaceutical world, weird and often pointlessly story-driven insurance spots, as well as commercials attuned to those who are insecure about living up to society's impossible ideals of both femininity and masculinity. Learn more about our incredible programming on designCraft's Facebook, Instagram, Twitter, and LinkedIn pages.
Additionally, our advanced targeting algorithm inserts additional spots corresponding to your tastes so you never miss out on the perfect product or service, even as you're indulging your guilty pleasure favorites or our immensely popular collection of foreign-language perfume ads. Ad-in-ad technology allows us to serve users sidebar, banner, pop-up, and QR ads on top of your streaming selections for an inescapable and truly immersive promotional experience that exponentially enhances the value of this subscription-based ad service.
Become an Adflix charter member and we'll throw in six months of all your favorite junk mail at no extra charge.
*Yes, you can even catch up on obscure cereal prize commercials from the convenience of your Apple Watch – presented in true 1.3:1 aspect ratio as the advertisers originally intended.
The designCraft team is here to support your advertising needs on April Fools' Day and every day.